Click on hand to order novels.

Home of Wis-Myth. Just left of Sci-Fi looms Wisdom-Focused Modern Mythology

The latest from Blooming Rose Press
---
December 1, 2018
Holiday Orders

If you are among those who have visited BloomingRosePress.com in record-breaking numbers during November to discover and read our most popular articles -- "Getting a Story out of Nowhere," "Paradox," and "The Relationship Between Fiction and Spirituality" -- we invite you to make a purchase from our order page for your holiday lists. Especially for family members and loved ones expanding their spheres of consciousness. All holiday purchases from this website are 20% off retail price. And holiday purchases of volumes of The Third Verse Trilogy will each be signed by the author. You can also have the author include an inscription composed by you for the recipient through the Contact Us page. Be sure to identify your order. We offer wishes for all to have a happy and reflective 2018 Winter Solstice.

 Updated September 22, 2018
The personal story of Mt. Shasta's spiritual astrologer is now posted. You are invited to embrace the higher levels of understanding how we can relate to our birth chart as the mandala of our life at Astrology as a Spiritual Path.

September 19, 2018: A Visionary

     Per capita, there aren't that many of them. In fact, a person could live an amazing life of eight decades or so and never encounter a visionary, much less be one, given the hypnotic spell of mundaneness in this realm. When the veil is ripped, however, and the heart of truth appears, there's nothing that can touch peak experience nor ever eradicate it from memory.
     That's why I choose to spotlight two beings who have stories to tell. One is returning to bring to us the mystic wisdom from his lineage -- Lama Lodru Rinpoche, details on our Events page -- and another whose background also commands attention. Return soon, for in the next few days a new page will appear at this site featuring a personal revelation of how the veil can be ripped, and the result. Watch for the next announcement posted here soon.

Updated September 15, 2018
The topics for Lama Lodru Rinpoche's teaching weekend have been announced. Please go to Events page for these details.

August 22, 2018

We are joyous to announce that Venerable Lama Lodru Rinpoche will offer teachings here in Mt. Shasta Saturday, October 27 and Sunday, October 28. The topic will soon be announced. The location for teachings will be at the same venue as last year, at a private residence, 1520 Shasta Acres Rd., Mt. Shasta, CA. We are co-hosting Rinpoche with the Mount Shasta Friends of Tibetan Culture. As details for this event are known, updates will appear at our Events page. Anyone in our region who would like to volunteer help may contact us through this website. Thank you!

July 11, 2018
Our summer updates have now been posted. There will be a blessed event happening soon -- Friday, July 27 through Sunday, July 29 -- when Mount Shasta Friends of Tibetan Culture will host the return visit of The Nechung Chogtrul Rinpoche and the Nechung Monks. Also, Venerable Lama Lodru Rinpoche returns to give teachings in Mt. Shasta Saturday, October 27 and Sunday, October 28. For details, please go to our Events page.
In addition, our Friends page has been brought up to date, and soon will be expanded.

June 6, 2018
The information about the campaign of Lewis Elbinger for the Congressional seat in California District 1 that you see below remains here for reference. Lewis is now preparing for a full-blown campaign to run in 2020. See more at our Friends page.

February 27, 2018
If you live in District 1, far Northern California, and voted for Bernie Sanders in 2016 - or even if you didn't - the timing is right for us to be represented in Congress by a conscious progressive with 28 years of experience in the U.S. State Department as Foreign Officer. His name, Lewis Elbinger, will be on the June open ballot. Here in Mt. Shasta, CA we are rallying behind him. For all details about Mr..Elbinger's experience and candidacy, go to http://www.lewiselbingerforcongress.com
March 19, 2018 update: For an excellent and informative interview of Lewis Elbinger by NorCal News Now, go to https://www.youtube.com/watch?v=tIpSJHZ-88A&feature=youtu.be
April 29, 2018 update: Due to personal volunteer work with Lewis Elbinger's campaign, I have not offered Blooming Rose Press site updates during this period. I highly recommend for visitors to view or return to the campaign website through the link given in the February 27 post above. The site has been greatly expanded since that time. Many facets of what Lewis offers to us that makes the June 5 primary election a historic possibility can be viewed there. Great goodness and hope to all.

February 12, 2018
Are you a wisdom seeker who would like to expand into a meditation tradition? Or a practitioner open to investigating possibilities? Here is our newest posting at Insight Commentaries, featuring two renowned meditation teachers, Joseph Goldstein and Dzogchen Ponlop.

January 12, 2018
We honor our mystical and magical mountain with a new photograph submitted by friend Lisa Whitmer, taken after new snowfall, lit by alpenglow. View at the top of our Home Page, or at the Gallery.

November 14, 2017
Touching our hearts ... A friend of a friend has written about her experience as a volunteer with Friends of Orange County Detainees. With her permission, we are sharing the writing with you at Insight Commentaries.

November 9, 2017
Evolutionary Opportunities! Two Dharma teaching events will take place in Ashland, Oregon during December. Descriptions appear at our Events page.

November 4, 2017
Blooming Rose Press has become HTTPS compliant as of November 3, 2017 as shown by the green padlock at top left of every page. We thank SoloSell.com for enabling this protection.
September 22, 2017
The Fall Equinox is a highly significant hallmark date to me. It is the wedding anniversary for my late husband and me, and also the birthday of one of my dearest friends. She and I honor the date together every year. This year I also honor the date with a mind-opening addition to this site's Home Page to call attention to how story, in the tradition of Joseph Campbell, can be a portal to expanded consciousness. At the Home Page, scroll down to the last two paragraphs before the announcement box about Facets of the Diamond. Enjoy! -Lily G. Stephen

December 22, 2015: Our holiday gift to you is a precious photograph. The Kagyu center in San Francisco has sent this picture recently taken in Delhi of (left) Lama Lodu Rinpoche and (right) His Holiness the 17th Gyalwa Karmapa. A visual blessing for all. Information about Venerable Lama Lodu Rinpoche appears at our Events page.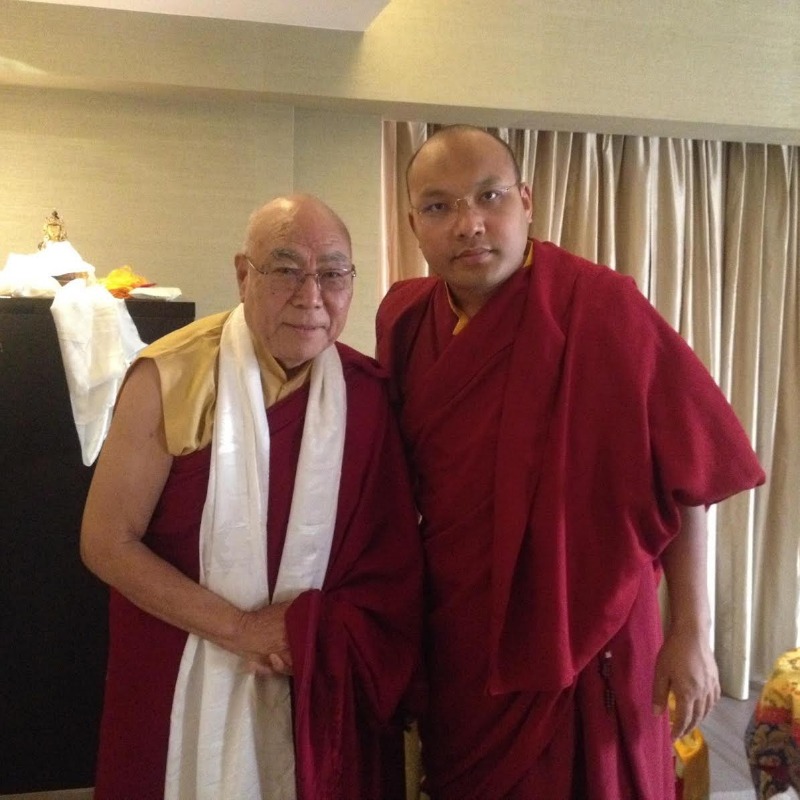 All images and written/spoken material are protected under copyright by Blooming Rose Press. No material may be reproduced without written permission.
Click on "Contact us" for permission.