Click on hand to order novels.

Home of Wis-Myth. Just left of Sci-Fi looms Wisdom-Focused Modern Mythology

The latest from Blooming Rose Press
---
July 11, 2018
Our summer updates have now been posted. There will be a blessed event happening soon -- Friday, July 27 through Sunday, July 29 -- when Mount Shasta Friends of Tibetan Culture will host the return visit of The Nechung Chogtrul Rinpoche and the Nechung Monks. Also, Venerable Lama Lodru Rinpoche returns to give teachings in Mt. Shasta Saturday, October 27 and Sunday, October 28. For details, please go to our Events page.
In addition, our Friends page has been brought up to date, and soon will be expanded.

June 6, 2018
The information about the campaign of Lewis Elbinger for the Congressional seat in California District 1 that you see below remains here for reference. Lewis is now preparing for a full-blown campaign to run in 2020. See more at our Friends page.

February 27, 2018
If you live in District 1, far Northern California, and voted for Bernie Sanders in 2016 - or even if you didn't - the timing is right for us to be represented in Congress by a conscious progressive with 28 years of experience in the U.S. State Department as Foreign Officer. His name, Lewis Elbinger, will be on the June open ballot. Here in Mt. Shasta, CA we are rallying behind him. For all details about Mr..Elbinger's experience and candidacy, go to http://www.lewiselbingerforcongress.com
March 19, 2018 update: For an excellent and informative interview of Lewis Elbinger by NorCal News Now, go to https://www.youtube.com/watch?v=tIpSJHZ-88A&feature=youtu.be
April 29, 2018 update: Due to personal volunteer work with Lewis Elbinger's campaign, I have not offered Blooming Rose Press site updates during this period. I highly recommend for visitors to view or return to the campaign website through the link given in the February 27 post above. The site has been greatly expanded since that time. Many facets of what Lewis offers to us that makes the June 5 primary election a historic possibility can be viewed there. Great goodness and hope to all.

February 12, 2018
Are you a wisdom seeker who would like to expand into a meditation tradition? Or a practitioner open to investigating possibilities? Here is our newest posting at Insight Commentaries, featuring two renowned meditation teachers, Joseph Goldstein and Dzogchen Ponlop.

January 12, 2018
We honor our mystical and magical mountain with a new photograph submitted by friend Lisa Whitmer, taken after new snowfall, lit by alpenglow. View at the top of our Home Page, or at the Gallery.

November 14, 2017
Touching our hearts ... A friend of a friend has written about her experience as a volunteer with Friends of Orange County Detainees. With her permission, we are sharing the writing with you at Insight Commentaries.

November 9, 2017
Evolutionary Opportunities! Two Dharma teaching events will take place in Ashland, Oregon during December. Descriptions appear at our Events page.

November 4, 2017
Blooming Rose Press has become HTTPS compliant as of November 3, 2017 as shown by the green padlock at top left of every page. We thank SoloSell.com for enabling this protection.
September 22, 2017
The Fall Equinox is a highly significant hallmark date to me. It is the wedding anniversary for my late husband and me, and also the birthday of one of my dearest friends. She and I honor the date together every year. This year I also honor the date with a mind-opening addition to this site's Home Page to call attention to how story, in the tradition of Joseph Campbell, can be a portal to expanded consciousness. At the Home Page, scroll down to the last two paragraphs before the announcement box about Facets of the Diamond. Enjoy! -Lily G. Stephen

August 6, 2017
Breaking news! Our local Mt. Shasta Sisson Museum will exhibit a feature next year under the working title: Mount Shasta: Mystery & Magic - Elevating the Human Spirit.  An invitation to contribute to this effort is extended to all. See our Events page for more.

May 9, 2017
Venerable Lama Lodru has announced the topic for his teaching weekend in Mt. Shasta, CA on July 15, 16, 2017: "The 37 Stanzas on the Way of the Bodhisattva." For description of this topic, click here. Teachings will take place at 1520 Shasta Acres Road, off McCloud Ave. As the date nears, directions and car pool arrangements will be posted, so please check in periodically. May all beings benefit.

March 12, 2017
Announcing an upcoming addition to this website: the Mountain Spirituality Project. As a preliminary effort to formulate the Mt. Shasta Sisson Museum's 2018 feature of spiritual traditions, schools and teachers drawn to sacred Mount Shasta, past and present, we invite representatives of such to submit short descriptions of their group to post as the new page is built, with contact information for the representative for future follow-up. Please make submissions through the contact page accessed at the navigation bar at left. We're happy to answer any questions. Thank you!

February 15, 2017
We are celebrating the completion of our upgraded Quick Order page! We invite you to view the new Shopping Cart and ease of ordering today.

February 13, 2017
Announcing: We are blessed to receive confirmation that Venerable Lama Lodu Rinpoche will return for a teaching weekend July 15 and 16 here in Mt. Shasta, California. The topic is to be announced and will be posted in the near future. Other details will be forthcoming. This announcement is also posted at our Events page.

January 25, 2017
Winter storms here at the mountain slowed down this work. At last, the new posting about one of the highest levels of meditation is available at Insight Commentaries. May all beings benefit.

January 15, 2017
Coming soon: Just days from now, an overview of a dramatic text written by John Blofeld that swept me from Eastern U.S. to the base of Cathedral Mount Shasta 41 years ago will be posted.
Also: News about Lama Lodru Rinpoche's next teaching weekend in Mt. Shasta will appear here.
The wave of 2017 awakening embraces us all!

December 11, 2016
Words to pay attention to: During this highly unusual time when so many are upset by recent events and tremulous about the future of our country and our planet, words can indeed make a difference. I am choosing to share an open letter written by Dr. Clarissa Pinkola Estes. You may even have already read this piece elsewhere. If so, it's worth reading again. Her letter is like pushing the reset button of what really matters. It appears here on the Insight Commentaries page.

September 25, 2016
September 2016 brought me a surprise, and it was a painful one. To help me through the healing period, a voice came to me from the past, both entertaining and inspirational. Lady of the Lotus got me through each day, and now I want to share about it with you. See the latest Insight Commentaries posting.

July 13, 2016: His Holiness the 14th Dalai Lama is really getting the attention of masses throughout the world as they are coming to realize that we all must act together to effect global change. Sample some of his riveting words at Insight Commentaries.

May 17, 2016: At last! The Chagdud Gonpa-Rigdin Ling teaching weekend report and both gallery pages are now complete. Links are provided to navigate throughout. May all beings benefit! To the report; to CG-RL Gallery Page One; to CG-RL Gallery Page Two.

April 30, 2016: One of two Chagdud Gonpa Gallery pages is now posted. Best route to navigate is to read the Insight Commentary report first, where the photo page is linked. A short cut is to click on the gallery nav button to the left. Enjoy!

April 20, 2016: Here is the report on "Preparing for the Great Perfection." Check back, for soon there will be a photo gallery posted and announced here. May all beings benefit.

April 19, 2016: Thank you for your patience; the report on the teaching weekend is almost ready to post. Then hopefully photo processing will follow, another amazing treat! All this is being interwoven with springtime outdoor work. The goal is to upload the report by week's end.

April 6, 2016: Leaving early tomorrow for "Preparing for the Great Perfection" with Jigme Tromge Rinpoche, son of the late Chagdud Tulku Rinpoche, at Chagdud Gonpe Rigdzin Ling in Northern California -- a weekend of teachings, empowerments and practices. Check back next week for a report!

January 29, 2016: A two-fold expression in honor of our current weather in the Mount Shasta area commonly held to be the result of El Nino's reappearance, and some observations about the mysterious nature of time are now posted at Insight Commentaries. For a poem titled "El Nino" during the last El Nino appearance written February 21, 1998 by Lily G. Stephen -- and reflections on Thomas Mann's "Excursus on the Sense of Time" as found in the 1927 translation of his work The Magic Mountain -- join us at Insight Commentaries.

December 22, 2015: Our holiday gift to you is a precious photograph. The Kagyu center in San Francisco has sent this picture recently taken in Delhi of (left) Lama Lodu Rinpoche and (right) His Holiness the 17th Gyalwa Karmapa. A visual blessing for all. Information about Venerable Lama Lodu Rinpoche appears at our Events page.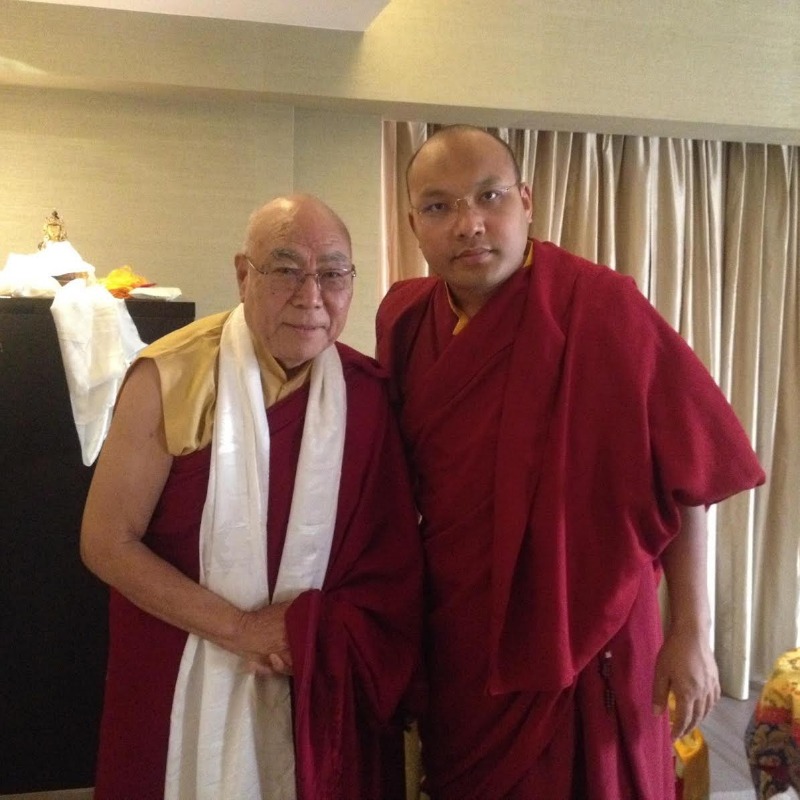 December 4, 2015: Two fresh views of Mount Shasta taken by photographer Vicki Brenner have been added to our Gallery page showing an early snow pack forming on the mountain.

November 26, 2015: This news piece is a three-way path on this site. What follows is an excerpt from our Buddhist Traditions page, and qualifies for inclusion at Insight Commentaries. That the quotation originates with John Blofeld is personally significant. His Tantric Mysticism of Tibet was published in 1970. Only a couple of years later I followed another interconnection after reading Ralph Metzner's Maps of Consciousness, which led me to Blofeld's practical translation of the I Ching (The Book of Change). From there I acquired his book on Tantric Mysticism which I still have, much fortified with tape and bookmarked in several places. So here, the excerpt from P. 45 of that illustrious book:

-Vajrayana - Sanskrit, meaning "Diamond Vehicle," the Vajrayana is termed by the late Buddhist scholar John Blofeld "the ultimate flowering of Mahayana doctrine;" he goes on to say that "the Vajrayana caters to people who find it easier to use symbols and concepts as the very weapons with which to do away with concepts, instead of trying to banish them from the first. With Zen we start, so to speak, at the Ph.D. level; with the Vajrayana, we may enter the path at any level from kindergarten to professor." (-The Tantric Mysticism of Tibet) This Buddhist school is defined by psychological methods based on highly developed ritual practices.

November 19, 2015: Multidimensional realization -- a process that can help us? Some reasons why at Novel Insights & Wisdom.

November 3, 2015: Recently while getting an eye exam, the small calendar on the counter caught my attention with a quotation: "I wouldn't have seen it if I hadn't believed it." -Marshall McLuhan. From such moments, consciousness expands. This is the newest addition to Novel Insights & Wisdom - at last.

October 4, 2015: I'm not sure if there's a catch to this or not. You know what they say about "If it sounds too good to be true..." Well, I just read about a new self-publishing system called Pronoun. The URL for the article is long, and appears at the tail of this posting. Then I went to pronoun.com. Free? It's all free? My inner skeptic cautions me to curb my excitement. Well, it's worth a visit. It's sky-high impressive. See what you think. You can copy and paste the URL for the article that gave me a heads-up: http://techcrunch.com/2015/10/03/pronoun-a-self-publishing-platform-for-authors-is-ready-to-serve-humanity/ncid=rss&utm_source=feedburner&utm_medium=feed&utm_campaign=Feed%3A+Techcrunch+%28TechCrunch%29
I will post this announcement at the "Getting A Story II" page. If you have feedback, please send through our Contact form for possible posting there.

September 20, 2015: Announcing the teachings which Venerable Lama Lodu Rinpoche will give October 23-25, 2015: Initiation and teachings of Beloved Guru Rinpoche (Padmasambhava). Details appear at our Events page. This is a rare blessing to come to all students of higher wisdom, and to our sacred mountain.

September 5, 2015: We could not offer a more joyous announcement! It is our great honor to annouce that Venerable Lama Lodu Rinpoche is scheduled to bring teachings to Mount Shasta the weekend of Friday, October 23 through Sunday, October 25, 2015. Topic of teachings is to be announced. Details appear on our Events page.

July 19 2015:  We apologize for the period of quiet from Blooming Rose Press. The time has been like - not just climbing the mountain, but continuing on over the crests of endless mountain ranges. Lots of work. The latest announcement has been posted at our Events page, which reads: The Blooming Rose Press Metaphysical Reading Center is closed until further notice due to welcome family transitions. We hope to re-assemble the volumes and journals for purposes of research at some time in the near future. Meanwhile, these have been returned to Bob Stephen's large spiritual and metaphysical library. In some cases we may be able to respond to inquiries about specific titles. Inquire please by message phone, 530-926-2833, or by using the contact form at this site. Thank you.

May 3, 2015: For the months of May and June, 2015, Blooming Rose Press will donate 50% of all proceeds from sales of The Third Verse Trilogy books and CDs to the Himalayan Children's Fund for aid to earthquake victims in Nepal. If you should wish to donate directly, mailing a check to their address is the most efficient way, avoiding fees and a few weeks' delay. Their address is P.O. Box  15644, Beverly Hills, CA 90209 USA (310.395.6616). You may order our products here.

April 26, 2015: Please take a moment to contemplate: Message from The Gyalwang Karmapa Concerning the Recent Earthquake which appears at Wisdom Forum.

April 13, 2015: This morning, stepping into the function of going beyond what words can express, I reviewed the article on this site about spiritual novels. Reminded about the great writer Katherine Mansfield whose words "Major literature, in short, is an initiation into truth" have summed up my personal experiences with the highest function of the storyteller. You may find great inspiration from "The Relationship between Fiction and Spirituality."
March 21, 2015: Announcement - Blooming Rose Press has joined efforts with Mount Shasta Authors Guild. An enthusiastic group of fiction and non-fiction authors focusing in collective promotion and marketing to showcase their higher evolutionary work is growing fast. Visitors may find our books at their website by title or author. We applaud these hard-working folks.

March 17, 2015: Why is it important to give up attachment? It's no secret, but this reminder at Novel Insights & Wisdom brings us home to true freedom.

March 2, 2015: Have you read Lama Sherab Dorje's excellent article on Recollection? Whether yes or no, take in this latest posting at Novel Insights & Wisdom.
February 14, 2015: A little moon-magic is posted at Novel Insights & Wisdom.
January 28, 2015: The significance of being elderly - Today's posting at our Novel Insights & Wisdom page - click here.

January 11, 2015: A few comments about our collective behavior and the importance of evolving out of ancient, set patterns now appears at our Novel Insights & Wisdom page - click here.

December 27, 2014: We invite you to our Novel Insights & Wisdom page for the latest posting focused in this special time of year. These expressions arise from the highest visions for 2015. Click here for inspiration.

All images and written/spoken material are protected under copyright by Blooming Rose Press. No material may be reproduced without written permission.
Click on "Contact us" for permission.