Home of Wis-Myth. Just left of Sci-Fi looms Wisdom-Focused Modern Mythology


Click on hand to order novels.

Events - They came to us!
Blessings from the Universe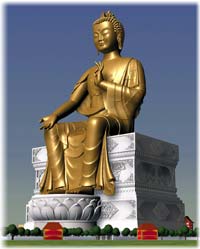 Last page update December 29, 2017

---
---
---
---
Have you heard? Our museum -- of the caliber you'd find in a big city -- in the small town of Mt. Shasta, California will have a feature opening in spring of 2018, so far under the working title of Mount Shasta: Mystery & Magic - Elevating the Human Spirit.This will be an event open throughout the Mt. Shasta Sisson Museum's 2018 season.

The mountain called Shasta has been the focus of many systems of philosophy, spirituality and reverence, past and present.  In conjunction with this, we are interested in what brings people to Mount Shasta and in their feelings about the mountain. You are invited to submit a short quotation about what drew you to Mount Shasta, and/or what the mountain means to you. Please keep these short, no longer than three sentences. You can sign with your first and last name, first name only, or initials.

To submit your quote, you may use our Contact page. Important: Reference your submission as Mount Shasta quote. If you prefer to submit your quote directly, please call 530-926-2833 and leave a clear message with contact information if there is no answer.

Each submission will be collected by the volunteers working with this inspring feature to create a display. Thank you! -Lily Stephen, museum volunteer. To explore the museum, visit http://mtshastamuseum.com/

---
To all of you who attended Venerable Lama Lodru Rinpoche's teaching weekend July 15 & 16, 2017, and to all of you who were not able to be there: The announcement about the blessing-filled event remains below for now. We hope it will not be long before we will replace the announcement with a new one for Rinpoche's next visit. Meanwhile, we leave you with this prayer that is the essence of his teachings. "May all beings have happiness and the cause of happiness. May all beings not have suffering and the causes of suffering. May all beings never be without the supreme bliss which is free from all suffering. May all beings live in the great equanimity which is free from all attachment and aversion."

June 8, 2017: Announcing -- Venerable Lama Lodru Rinpoche has announced the topic for his teaching weekend in Mt. Shasta, CA on July 15, 16, 2017: "The 37 Stanzas on the Way of the Bodhisattva." Teachings will take place at 1520 Shasta Acres Road, off McCloud Ave. Directions appear below. May all beings benefit.
When: Rinpoche's teachings will be in four 2-hour sessions, at 10:00 a.m. and 2:00 p.m., Saturday, July 15 & Sunday, July 16, 2017.
Where: At Della Clark's, host of Mt. Shasta Friends of Tibetan Culture - 1520 Shasta Acres Road, Mt. Shasta, CA (off McCloud Ave.) See directions below.
Cost: No price can be placed on wisdom teachings. Traditionally a Dana offering is made to Rinpoche when teachings conclude. For more information, call 530-926-2833 and leave a message.

Gyelsay Togmay Sangpo wrote The Thirty-Seven Practices of Bodhisattvas in the fourteenth century, composing a series of verses that summarize the Mahayana path to realization. 
Lama Lodu Rinpoche will teach on the Thirty Seven Practices, combining his realization with his forty years teaching Dharma to Westerners to make these pith practices accessible to anyone wishing to follow the path of the Buddha, benefitting both themselves and all sentient beings. 
By listening to these teachings, contemplating them and then doing our very best to put them into practice in our every day life, we have the opportunity to transform ourselves and our world, so do not miss this chance to attend these essential teachings.

Click here for Lama Lodru's biography. Anyone wishing to follow Lama's schedule may do so at http://www.kdk.org/
Directions: The town of Mt. Shasta is located in S. Siskiyou County, in far northern California. From either north or south on I-5, take the Central Mt. Shasta exit east toward the mountain. After the first traffic light, cross RR tracks; at the second traffic light, turn right onto Mt. Shasta Blvd. In one block, take the left turn lane and turn onto McCloud Ave. Follow this road uphill, crossing Washington, Adams, Jefferson, and Madison. Next left is Shasta Acres. Please park only on east side of Shasta Acres or on McCloud Ave. Parking is limited. Anyone who wishes to carpool to the venue from mid-town Mt. Shasta, please send a note with contact info through Contact Us and we will provide arrangements.
For details about accommodations, please visit https://visitmtshasta.com/

---
---
Present circumstances prevent us from traveling any great distance from our home and our unique little town of Mount Shasta. Through the magnetism of this place and the dynamic efforts of friends who are rightly motivated, we have been privileged to receive blessings and teachings without having to travel farther than a few blocks.
February 13, 2017: Announcing -- We are blessed to receive confirmation that Venerable Lama Lodu Rinpoche will return for a teaching weekend July 15 and 16 here in Mt. Shasta, California. The topic is to be announced and will be posted in the near future. Other details will be forthcoming. An auspicious summer to anticipate at our sacred mountain!
See link just below for Lama Lodu's bio and his URL.
We received blessed wisdom teachings from Venerable Lama Lodu Rinpoche the weekend of October 23-25, 2015. It is our great hope that we may look forward to an upcoming teaching weekend.

The summer of 2014 brought Venerable Lama Lodu Rinpoche to Mount Shasta, where he gave Dharma teachings at the temple house right next door to Blooming Rose Press - at Sacred Spirit Ministry, 408 Chestnut Street, Mount Shasta, CA.. Lama Lodu performed our marriage ceremony in 1996 (his photograph during that ceremony appears on the About Us page). His long-established center founded by His Eminence Kalu Rinpoche is Kagyu Droden Kunchab, located at 1892 Fell St., San Francisco, CA 94117, U.S.A. Lama Lodu Rinpoche also travels to many centers of Buddhist study and practice, as far away as Vancouver, Canada.

Click here for Lama Lodu's biography. Anyone wishing to follow Lama's schedule may do so at http://www.kdk.org/

The Blooming Rose Press Metaphysical Reading Center is closed until further notice due to welcome family transitions. We hope to re-assemble the volumes and journals for purposes of research at some time in the near future. Meanwhile, these have been returned to Bob Stephen's large spiritual and metaphysical library. In some cases we may be able to respond to inquiries about specific titles. Inquire please by message phone: 530-926-2833 or by using the contact form at this site. Thank you.

You may scroll down this page to learn about significant events that have taken place locally.  Also, two regional lineage centers offer blessing and teaching events: Rigdzin Ling, one of the main Chagdud Gonpa centers, Junction City, California ~
chagdudgonpa.org/
and Kagyu Sukha Chöling in Ashland, Oregon ~
www.kscashland.org
As you review past events of teachings taking place here in Mount Shasta, California, you will see the spacious, serene and holy Tara's Refuge referred to. This update, summer of 2016, marks this account of these events as a historic record. Tara's Refuge is no longer open to the public, but has become a private estate. We are blessed to have these few photographs to share.
Lama Wangdor Rimpoche came on July 25 and 26, 2009 to Tara's refuge in Mount Shasta to bestow quintessential teachings based on the profound Dzogchen text "The Flight of the Garuda." Lama Lena continues to travel with Rimpoche and translates for him. All in attendance were blessed by receiving these teachings on seeing the true nature of mind, and each were personally blessed by him and by Lama Lena. All in attendance joined in reciting a long-life prayer for beloved Wangdor Rimpoche. Below are two photographs taken when Vicki Brenner and Lily Stephen received blessings, courtesy of Eric.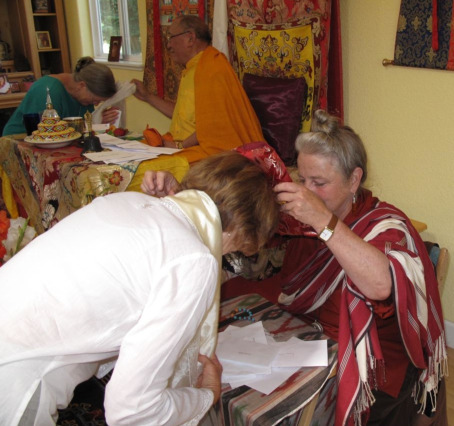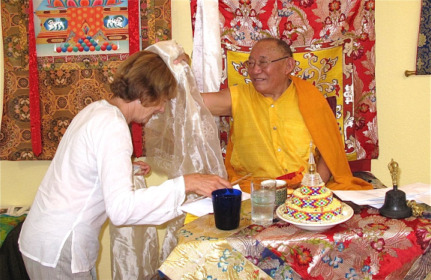 Wangdor Rimpoche
Lama Wangdor Rimpoche returned to give teachings in Mount Shasta on May 11-13, 2007 at the spacious, serene and holy Tara's Refuge. Rimpoche appears not to have aged since we personally last took teachings from him in October, 2001. His highly skilled translator, Lena, has become Lama Lena since that time. Their vitality and profound empowerments bestowed upon us the enhanced presence of clarity in our practice.
Lama Wangdor Rimpoche is an itinerant Lama who has spent more than 30 years meditating in the caves first used by the Tibetan saint, Padmasambhava, above Lotus Lake (Tsol Pema) in the Himachel Predesh region of Northern India. Wangdor Rimpoche holds both Nyingma and Kagyu Dzogchen/Chagchen lineages and is considered a Remay (eclectic) teacher. He teaches from heart texts on Dzogchen, the maha-ati and mahamudra yogas which he has received in lineage from Namble Janchub Dorje, Kunu Rimpoche and Scholars Chonchok Sumon Khenpo of Trungpa Rimpoche's line; Tucksie Rimpoche and Pumdong Key Rimpoche.
Those who wish to receive teachings from this realized master may view his calendar at his web site. We suggest taking special note of the Padmasambhava statue project.
Buddha Relics/Maitreya Project
A very rare event made it possible for us to view relics of the historical Buddha - Shakyamuni Buddha - and other Buddhist spiritual masters at Tara's Refuge, a Mount Shasta Buddhist temple, on March 9, 2003. The experience of receiving blessing powers from these relics has been profound in our spiritual practice.
The pearl-like deposits found in cremation ashes of highly realized masters are "ringsel" - evidence to Tibetans that these masters attained compassion and wisdom before death. Seldom are such relics available for viewing, even in the East. At this time it is especially auspicious for Buddhists and non-Buddhists alike to view the relics in a quiet, meditative environment to reinforce peace, for the historical Buddha is an archetype of peacefulness.
At present the relics are being made available for viewing in support of the Maitreya Project, a stupendous undertaking that includes a 500 foot statue of Maitreya to welcome the future Buddha Maitreya who will initiate the next cycle of wisdom teachings. Also included is an educational project designed to offer free education from K to university level.
Information about this amazing project, and the relic tour calendar, can be viewed at http://www.maitreyaproject.org. (See photo of artist's rendering of Maitreya statue above, as shown on their web site.)
Essence Qigong
Professor Chen Hui Xian is one of the most accomplished female Qigong teachers in the world. In 1982, diagnosed with lymphatic cancer, she healed herself in three months with Qigong practice. During the month of March, 2003 Professor Chen and her treasured daughter Pingping Li came to Mount Shasta, where we were able to take her two-day Essence Qigong workshop.
Over age 70, Professor Chen's vitality is vivid testimony to the benefits of this Qigong system that combines the best qualities of ancient Qigong practice with the modern Qigong techniques used in Chinese hospitals.
Essence Qigong was developed by Chen Fu Yin, director of the Chinese Academy of Somatic Science. He summed up the essence from various Qigong forms, from the ancient to the modern. It is a simple, easy-to-learn system that can be learned by anyone, even the handicapped.
Qi (pronounced chee) comes from the Chinese term for life energy. Gong denotes practice or discipline. We all have qi in our bodies, because we are alive. This practice balances qi and provides a harmonious relationship between the universe and humans. Through Essence Qigong we become the sum of heaven and earth, grounded to whatever we need to do in this lifetime, and benefited with good health and longevity.
Professor Chen Hui Xian may return to Mount Shasta periodically to give workshops. We post these events as they are scheduled. Please return to this page for updates.
Professor Chen and Pingping now maintain a website where their schedule can be accessed. They offer Chinese Essence Qigong and Awakening Light Gong, workshops in different locations. They also have Chinese Essence and Soaring Crane Qigong teacher training workshops. Those interested in traveling with them to China for in-depth Qigong teachings and practice there can also find online dates, and be notified by email, by request. Visit www.wisdomandpeace.com.
---
A Shasta Abbey monk shared this special poem with us, found inscribed on a wall in a Tibetan Buddhist monastery:
Once little cares annoyed me When life's little cares were few, And the one fly in the ointment Put me in an awful stew.
But life's stern troubles taught me Each little good to prize. I rejoice now to find some ointment In my little jar of flies.
Click here for our In Memoriam tribute to Reverend Master Daizui MacPhillamy.
---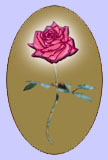 All images and written/spoken material are protected under copyright by Blooming Rose Press. No material may be reproduced without written permission.
Click on "Contact us" for permission.