Home of Wis-Myth. Just left of Sci-Fi looms Wisdom-Focused Modern Mythology


Click on hand to order novels.

Blooming Rose Press Book Event Gallery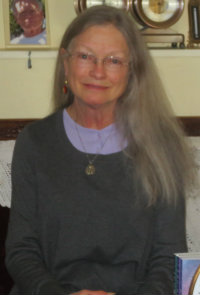 Photographer: Lisa L. Whitmer
December 17, 2013

Entering 2014, author and publisher Lily G. Stephen sits alone, assisted only by universal wisdom and the light of truth. This advent also marks the 14th year of Blooming Rose Press and its publication of the Third Verse Trilogy. While the three books in print and on recording in Lily's voice continue to be distributed, two new titles have formulated and develop: Star Shining in Daytime, and The Scrolls of Branicor. Watch Latest News!

We like to work with independent book shops in small-town environs and welcome contact from book shops, art galleries, gift stores and all venues for fiction that moves readers to broaden their perspectives - fiction for wisdom-seekers. Blooming Rose Press invites inquiries for book-signing engagements and appearances.
From the July 2, 2008 issue of the Mount Shasta Herald, journalist Will Duggan reports:
"Five local women authors will be staffing a 'Women With Wisdom' booth during Mount Shasta's Fourth of July street fair in the downtown area July 5 and 6."
As Lily G. Stephen is quoted in the article accompanying the adjoining photo, "We're going to celebrate our work as writers...All of us have something unique to offer in the way of insight and perspective. For me it has been the completion of a metaphysical trilogy. The literary work has been an opportunity for me to come to terms with being a storyteller and facilitating a vehicle for the sharing of higher wisdom."
Lily G. Stephen and Maralee Lowder displayed their books at the McCloud Flea Market, June 1, 2008.
Photo by Paul Boerger. Photo caption: Author Lily G. Stephen, right, with Village Books owner Kathy Lancaster. Stephen recently released the second book in a planned trilogy,
The El-eventh Hour.
Stephen releases The El-eventh Hour Novel follows The Tenth Muse, By Paul Boerger Mount Shasta author Lily G. Stephen has released the second volume of the planned Third Verse Trilogy, The El-eventh Hour. "The Third Verse trilogy is a work that spans several genres, visionary and literary fiction," Stephen said. " Although second in the trilogy, The El-eventh Hour can be enjoyed as a stand-alone novel." The first book in the trilogy, The Tenth Muse published in 2000, was well received by reviewers. The Midwest Book Review said of The Tenth Muse, "a compelling and emotional novel...myth, legend fuse with reality in this unique, intriguing, complex and well-crafted highly recommended tale." The Tenth Muse tells the story of two girls inhabiting parallel worlds and their connection to an ancient myth. The El-eventh Hour follows Miranda, a character from The Tenth Muse, through her mystical experiences in Peru and elsewhere. "Miranda moves through exotic settings, among them an ancient subterranean city-complex, a higher-dimensional realm called Lamartine, and a refuge within the peak of a scared North American mountain," Stephen said. "The El-eventh Hour embraces the next phase in human evolution and answers a need for higher wisdom in fiction." Stephen's said her own spiritual path has led her from growing up in a restrictive fundamentalist Christian sect to receiving teachings from Tibetan Buddhist masters. "I ask readers to embrace the concept of mankind moving toward enlightened society," Stephen said. "Our only true hope is in transforming human experience through wisdom and universal responsibility." The El-eventh Hour is available at Village Books in Mount Shasta or online at www.bloomingrosepress.com. Reproduced here courtesy of Mount Shasta Herald and Paul Boerger. ~ October 6, 2004

Introducing Leanne Krause, aka Silverlining Designs ~ and currently, Silverlining Press ...
Leanne is the creator of our book covers, and she formats our text. Magical results happen when we bring our ideas together into graphic visions.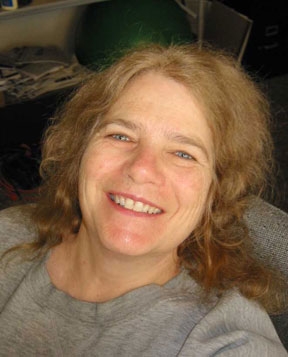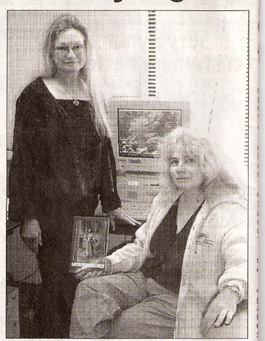 The Tenth Muse book cover was awarded a silver finalist honor by Publishers Marketing Association's Benjamin Franklin Book Awards, a national competition for excellence in publishing. Author Lily G. Stephen and graphic artist Leanne Krause are recognized on May 1, 2002, in the Mount Shasta Herald. Photographer: Kathleen Kennedy.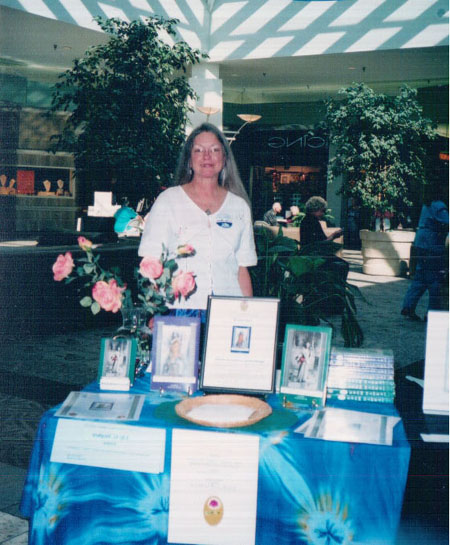 Blooming Rose Press exhibit at the first annual Northern California Authors Fair September 25, 2004.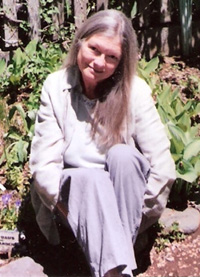 All images and written/spoken material are protected under copyright by Blooming Rose Press. No material may be reproduced without written permission.
Click on "Contact us" for permission.