Click on hand to order novels.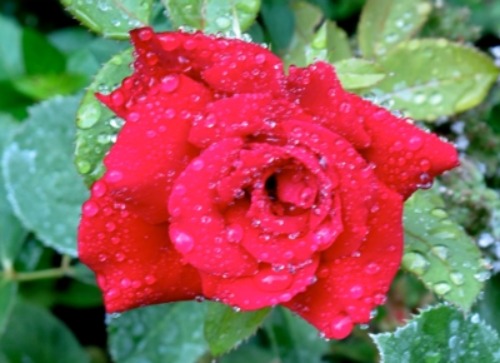 Home of Wis-Myth. Just left of Sci-Fi looms Wisdom-Focused Modern Mythology

The latest from Blooming Rose Press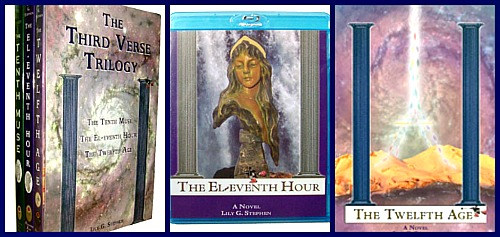 ---
February 14, 2015: A little moon-magic is posted at Novel Insights & Wisdom.
January 28, 2015: The significance of being elderly - Today's posting at our Novel Insights & Wisdom page - click here.

January 11, 2015: A few comments about our collective behavior and the importance of evolving out of ancient, set patterns now appears at our Novel Insights & Wisdom page - click here.

December 27, 2014: We invite you to our Novel Insights & Wisdom page for the latest posting focused in this special time of year. These expressions arise from the highest visions for 2015. Click here for inspiration.

December 20, 2014: Last-minute holiday shopping announcement - Are you shopping for someone who's a little big geeky (or a lot) but have no idea where to look or what to get? Check out this great gift (at 33% off) that has lightning fast delivery with zero shipping costs, but don't take my word for it; how about the experience of a 3rd year university student studying programming and entrepreneurship? In his own words ...  And see just below, the December 3 links, for more information.

December 3, 2014: Special holiday announcement - Our web host, SiteBuildIt!, is offering 33% off a new SBI website through Friday, December 26, 2014. This means instead of $299, the opportunity to have an online market for your products, talents, or life experience is like a holiday gift for only $199.

Have a look at details about how SBI! works, its many applications, and short videos of possibilities from those who have benefited. And "All the Tools" is a stupendous array of tools that come with your website. 

Just a couple: Block Builder 2 works as easily as 1, 2, 3. And the Mobilize It option can make an immediate difference on the visitor's end; you will see your visitor statistics soar. May the uplifting and innovative energies of this time of year inspire you!

November 10, 2014: A new addition has been posted to the Novel Insights & Wisdom page featuring authors Susan Howatch, John Habgood, David F. Ford, and Tony Schwartz. You may click here for the update.

November 2, 2014: The Novel Insights & Wisdom page is now posted. You may click here to view the introductory version.

October 28, 2014: The Blooming Rose Press Holiday Special
All orders of books and/or CDs of any size will receive a gift copy of The Well Versed Anthology: poems from writers in the Mount Shasta realm. Offer begins November 1 and continues through January 1, 2015. This is a 98 page book cooperatively published by 39 poets who met and read their poetry aloud as a group for over a year prior to publication. (Posted on this, my only child's birthday in honor of him.)

October 24, 2014: The newest page is now under construction. Watch for its release, coming soon: Novel Insights & Wisdom. We are blessed with the rainy days we've all prayed for, creating the perfect climate to accomplish indoor activity. There will soon be glorious photographs of snow-covered Mount Shasta posted online.

October 5, 2014: The plan for our new insight page has not changed, but a different new page bumped it to second place on our task list. With glad hearts, we announce that Lama Shenpen Hookham has responded to our request for permission to quote from her highly-recommended book, There's More to Dying than Death, with her gracious willingness to share. Her writings about the mysterious workings of karma make this concept more comprehensible to the western mind. Investigate at Karma and the Path to Awakening. Thank you, Lama Shenpen!

September 18, 2014: To explain the continuing delay with Venerable Lama Lodu's recorded teachings and construction of the promised new insight page, I need to let you know that I am problem-solving with my PC that has been temporarily disabled; and our small town of Mount Shasta, California has banded together with our sister town of Weed just to the north of us during an unbelievable tragedy caused by the Boles fire that destroyed about half of Weed Monday. Displaced families from over 100 homes that burned have lost everything. The relief efforts are stupendous and amazing. The best news that follows is that we are having our first rainfall! It has been raining off and on since before midnight, and it's still falling at this time of writing, 6:30 a.m. The massive Trinity fire in the Happy Camp area, and the smoldering remains of the Boles fire should now be aided by blessings from the universe falling as rain.

September 3, 2014: The audio project for Venerable Lama Lodu Rinpoche's teachings has come to a temporary halt. As H. H. the 14th Dalai Lama says, never give up. Meanwhile, a plan forms to add a new page that will be commentaries, though not called a blog. This will be insights that are coming through with increased rapidity, as well as notes jotted over the years that were signposts pointing The Way. One for this morning resonates with current events. This comes from Frank Herbert's Dune Messiah, toward the end of the book: "Did any among them see beyond religious beliefs? Where was one man who'd escaped the narrow destiny of his prejudices?"

Also this morning I came across a handwritten page in a pile of my past notebooks that had some fierce editing which I decided to untangle. Here's the result:

The microcosm said to the macrocosm, "You've got matters out of perspective."
"Horsefeathers," he replied. "Bigger is better."
"Look closer," she said. "In me you see yourself. Without me you wouldn't exist."
Now inflated to universal proportions, he's about to speak, but she's quick.
"If only it had been a long seduction instead of a big bang." -Lily G. Stephen
Watch for our new page, coming soon...

August 5, 2014: The reason it's taking me so long to write about the July 26, 27 teaching weekend with Venerable Lama Lodu Rinpoche is because I am working with recordings I made of the sessions. I am admittedly untrained and not as well equipped as I would wish. But soon I hope to have an MP3 sample from Rinpoche's teachings to start with, available right here. (There are other factors of life that bear upon time availability, including impact from the lightning strike wildfires all around us.) This single comment that rises up from inner processes inspired by Rinpoche is worth sharing: True wisdom teachers having use of skillful means do not come into our midst with trappings of magic or showmanship. Several times during that gifted weekend, I was reminded of His Holiness the 14th Dalai Lama, embodiment of compassionate wisdom in a simple monk's form. Being with Venerable Lama Lodu Rinpoche during those wisdom-filled days was like finding oneself beside a stream that flows from known gold-rich plateaus. One would not have gold land at one's feet, but would have all senses and abilities come forth to find treasure. When you hear Rinpoche speak, sometimes it may take more than one hearing. To go deeply into these hearings is worth every moment of attention we can give.

July 29, 2014: Soon to come: An account describing our experience with Venerable Lama Lodu Rinpoche!

July 21, 2014: Announcement: Everything is in place for this upcoming teaching weekend with Venerable Lama Lodu Rinpoche. His teaching schedule for July 26, 27 has been established. Details are posted at our Events page, with an adjacent page that provides his biography. All are invited. No registration fees are required. Anyone wishing to give a donation to Rinpoche may bring it in an envelope to present to him. We look forward to this great blessing for all in Mount Shasta's realm.
June 25, 2014: Announcement:

Blooming Rose Press & Colleagues
"A Breath of Fresh Air!"

On the 4th of July, stop by while you're out –
we will be there, at the parking lot at 402 Chestnut St.
during Mount Shasta's famous extravaganza.
Amidst the excitement, good cheer, and enticing aromas, we will offer inspiration to take home for quiet moments of reflection with books, CDs and more. Don't miss a superb opportunity for interconnection.
 Colleagues and family in the Pacific Northwest will join us with offerings of all kinds, including joyous greetings and hugs. It's our reunion!
~~~~~~~~~~~~~~~~~~~~~~~~~~~~~~~~~~~~~~~~~
Blooming Rose Press – 402 Chestnut St., Mount Shasta, CA
530-926-2833 – www.bloomingrosepress.com
~~~~~~~~~~~~~~~~~~~~~~~~~~~~~~~~~~~~~~~~~

June 19, 2014: Announcement: Lama Lodu's teaching schedule for July 26, 27 has been established. Details are posted at our Events page, with an adjacent page that provides his biography. May all beings benefit.

June 2, 2014: Announcement: The date for Lama Lodu's teaching weekend has been set for July 26 and 27. As the time draws closer, we will post here the chosen topic of his teaching, and offer a map to the venue. The teaching will be held at the temple house right next door to Blooming Rose Press - at Sacred Spirit Ministry, 408 Chestnut Street, Mount Shasta, CA.

May 20, 2014: Some simple changes have been made in our website pages that offer content our visitors find the most helpful to them. These articles have not been changed in content, but arranged to be more readable. To date the excellent articles which Andrew Olendski wrote and gave his permission to reprint - Karma and Paradox - now have subheadings, as do Reincarnation, Collective Consciousness, Buddhist Traditions, Fiction with Wisdom, and both Getting a Story pages. We hope this improves your experience at Blooming Rose Press!

May 11, 2014: We watch Lama Lodu's ambitious spring/summer schedule and await word about his visit to Mount Shasta. We have suggested that September may be a less scheduled month for him. As soon as we have a date to post, an announcement will appear here and on our Events page.

April 4, 2014:  The previously announced healing event scheduled for Saturday, April 12 is now cancelled due to unforeseen circumstances. We apologize, for Juvenal Garcia's expertise was eagerly anticipated and could help many of us. As soon as we learn more, we hope to reschedule his workshop.


March 20, 2014: We have invited a Nagual Curandero to give a healing workshop focusing on joint pain. This is scheduled for Saturday, April 12 at 2:00 p.m. at the Blooming Rose Press Metaphysical Reading Center.

What is a Nagual Curandero? These people are a group in the south of Mexico who live in the forest - sanadors, healers in harmony with plants and natural healing energies.
February 20, 2014: Word has come from Venerable Lama Lodu Rinpoche that he will come to Mount Shasta this summer to give a Dharma Talk. Lama Lodu performed our marriage ceremony in 1996 (his photograph during that ceremony appears on the About Us page).
He is currently in India, but his long-established center founded by His Eminence Kalu Rinpoche is Kagyu Droden Kunchab, located at 1892 Fell St., San Francisco, CA 94117, U.S.A. As soon as Lama Lodu returns in April, we will schedule his Mount Shasta visit and details will appear here and at our Events page. This is a great blessing for all!


January 15, 2014: Take a look at the 2014 addition to our Author's Gallery for the latest. The year 2013 has reduced Blooming Rose Press from duet to solo with Bob's passing. So on a personal note, you can empathize with my contemplative tone as we look at our calendars and into the coming months. Since I know that the Blooming Rose Press project has not been carried out without help seen and unseen, future postings will still embrace and acknowledge this help through the use of "we" and "us" instead of "me" and "I." Thank you for your help, too. May the universe be with you. ~Lily
The Blooming Rose Press Metaphysical Reading Center hours for 2014 are Friday and Saturday, 11:00 a.m. until 3:00 p.m. or by appointment. Call 530-926-2833 to request an appointment, or select Contact Us at left and email your request. Read-aloud Gatherings continue every Saturday afternoon starting at 1:00 p.m.

Blooming Rose Press, 402 Chestnut St., Mount Shasta, CA 96067
~~~~~~~~~~~~~~~

November 1, 2013: Will it be a rainy Saturday? There will be warmth, tea and good company at the Blooming Rose Press Metaphysical Reading Center. Come join us at 1:00 p.m. for a Read-aloud Gathering, with guest readers, and to investigate volumes of wisdom, some of which you would have a hard time finding elsewhere. [These gatherings will continue every Saturday, 1:00 p.m. to 3:00 p.m.]

Titles continue to add to the Reading Center collection. Today's additions are by Ram Dass: Grist for the Mill, The Only Dance There Is, and co-authored with Paul Gorman, How Can I Help? And by John C. Lilly, M.D., The Deep Self. Recently added to the Inner Room: Tertium Organum: A Key to the Enigmas of the World, by P. D. Ouspensky.

Names of some teachers may be enigmatic, so bio print-outs are appearing next to their collections, complete with the teacher's photograph.

Welcome, we look forward to inspiring conversations and hugs.
Fall and Winter hours: Wed. through Sat., 11:00 a.m. to 3:00 p.m.
Inquiries may be directed to Lily Stephen at our Contact Us page.
Blooming Rose Press ~ 402 Chestnut St., Mt. Shasta, CA 96067
530-926-2833
~~~~~~~~~~~~~~~

October 16, 2013: Announcing Read-Aloud Gatherings ~ Do you live in the Mount Shasta area, enjoy reading aloud and have a favorite book or article in the general sphere of spirituality/metaphysics? Come have a cup of tea with us "on the house" this Saturday, October 19, 1:00 until 3:00, for informal readings. These can be short ~ a few lines ~ or up to eight minutes. We will enjoy your voice, expressions, and content. Maybe you are even the author of the book, article, poem, or unpublished manuscript!

Readings-aloud may become a regular feature of the center. If you prefer to listen only, that's fine too. All are welcome. At Blooming Rose Press Metaphysical Reading Center, 402 Chestnut St., Mt. Shasta, CA.

September 24, 2013: And here it is! If you read the 9/14 announcement below, you are ready for the opening date of the Blooming Rose Press Metaphysical Reading Center, 402 Chestnut St., Mount Shasta, CA on Saturday, October 5, 2013, 11:00 a.m. to 3:00 p.m. More information appears on our events page. ALSO: Lama Lena returns (on short notice) to give Dzogchen Teachings in Mount Shasta! Held at Sacred Spirit Ministry, 408 Chestnut St., Mount Shasta, CA. (yes, right next door to the new Metaphysical Reading Center announced above), sessions will be Sat., 9/28/13, 10 to 12 a.m. and 2 to 4; Sun., 9/29/13, 10 to 12 a.m.

September 14, 2013: COMING SOON: Blooming Rose Press is putting its sign out in the heart of Mount Shasta. It will be a showcase for small publishers and local authors -- and more. Get ready for a reading room and lending library stocked from a collection of Mount Shasta area metaphysical publications gathered through the years. Informal gatherings as well as occasional guest speakers are planned for. Watch here for the upcoming opening announcement!

August 7, 2013: This passage of time, July into August, has called for all my spiritual resources to sustain me. I have not come to post this here as "Latest News" without a lot of cogitation and wavering, believe me. Our Bob left his physical body behind last month. He was the most brilliant and highly evolved man I have ever known. He was also devoted to conscious ego diminution, and specified that no public announcements be made or ceremonies held. So I will simply offer what he put into writing as his wish: "To go through life like an eagle through the sky -- leaving no tracks." In the remainder of summer into fall, I will attempt to include some of his distilled visions and helpful reminders at our Wisdom Forum page. Meanwhile, please be patient with me. Many details must be handled here, which could be irksome. Transformation from nuisance into the path of mindfulness is the practice. My mantra for this time is, "Be clear. Be here." ~Lily G. Stephen

July 13, 2013: You are reading this bit of latest news because we are enabled to create, develop and maintain our own website. And we're not tech-savvy people. Even though we have had a SiteBuildIt! website for over ten years, our excitement has crested to such a point that we want to be sure you, our visitor, have access to this dynamic system of site builder and designer tools. Over the years these people have never remained static. They continually grow, develop, and research the latest in website technology. If this fits into your needs, you can explore how SBI! works, and also access a video that shows BlockBuilder 2 with new and powerful features. Yes, in just a little over ten years while we have written and published three books, we've grown our own website simultaneously for the same annual fee (monthly version is also offered) as when we began!

Monday, May 27, 2013: A rumble is heard on this rainy morning, and it's not thunder. It's a resonant voice from The Third Verse Trilogy ~ maybe The Els, perhaps Branicor, even the prophet Stair calling for the unfolding of what is next to come.

May 12, 2013
Our Newest Gift to You!
Ancient wisdom guides us through deeply personal evolution. Foundations of The Third Verse Trilogy are based on guidance each of us need right here and now. At last, the audio MP3 "Facets of the Diamond" is available to you as our gift. These are higher wisdom excerpts, the underpinnings of the trilogy, such as: "A thought is simply the extroverted expression of knowing, of awareness." "Most sentient beings do not know how to recognize; they are carried away by thoughts." "The sorrows created by the mind can be untangled." "No matter what kind of disturbing emotion you feel, look into the emotion and it tracelessly subsides." With this outpouring of gratitude to venerable teachers, we offer their insights to you.

As it will always be, our audio book sampler MP3 is also our gift.
See order page.
April 10, 2013: Have you discovered Goodreads? You can get reader recommendations in all genres, join  a book club, suggest your own favorite books, and discuss why what you've read is worthwhile (or not). Our books have been on Goodreads and we didn't even know. Now we are joining in with excerpts, comments, and maybe even a blog. Have a look at www.goodreads.com.

February 3, 2013: They're here!
Two full-length audio books on MP3 files for your listening pleasure are now available for only $12.95 each. For details and to order, go to The Eleventh Hour MP3 Audio Book ~ or ~
The Twelfth Age MP3 Audio Book at our Order Page.

February 3, 2013: The Third Verse Trilogy began from a concept that came through on January 30, 2000. Since then, three volumes containing 896 pages have been published and praised by Publishers Weekly, Midwest Book Review, RebeccasReads.com, Paul Lappen-Dead Trees Review, top-100 Amazon.com reviewer Daniel Jolley (5 stars), explorer/lecturer Stan Grist, author Cynthia C. Whitehouse, author Aubrey Degnan, Ph.D., and Tulku Sherdor, Executive Director Blazing Wisdom Institute, N.Y.

On August 16, 2010, the answer to a two-year dream began to take place here at Blooming Rose Press with Lily's initial recording session. Eventually she processed recordings of all 896 pages for publication as author-read audio books on CDs and in MP3 format.

Today we bring results of the final stage to you. Announcing: The El-eventh Hour and The Twelfth Age are now both available as full-length unabridged audio books on MP3 files. We hope to release The Tenth Muse sometime this year. Meanwhile, each volume is a stand-alone novel. Readers and listeners may choose to begin this series in the order of their preference.

January 1, 2013: Our Gift to You! We begin these first hours of the New Year with free audio book samplers. Enjoy listening to author-read excerpts, and share them if you wish. See order page for graphics and information about our books and CDs, or click on Audio Book Samplers at left. Be sure to watch for the next stage in our MP3 project. Happy 2013!


December 17, 2012: Demands of time have partnered with technological challenges to continue the delay in making our MP3 conversions available to you. The conversions were completed months ago. We now anticipate that our holiday break time, and the accelerated Solstice energies, will help us surmount the final hurdles. It is our plan to have a special MP3 page adjacent to our Order Page. To start with, watch for the samplers to appear ~ followed by the full-length books. Meanwhile, we send out our wishes for all goodness to be yours at this focal time of year!

December 9, 2012: After a very dry season, abundant rain fell in town ~ coating Mt. Shasta with its white gown. And then more rain came, breaking records on two days that have stood since 1939 and 1941. For photographs of the mountain taken from Blooming Rose Press on November 27 and December 2, 2012, visit our Gallery II page. Oh, and be sure to stop at our order page for a great Holiday Offer! See November 25 announcement just below.

November 25, 2012: Here we are, one month before Christmas Day. Among multitudes of customs, beliefs, and observances, most of us have someone in our lives whose focus is set apart from commercialism, who is profound of thought and uplifting to be around. We offer gifts of precious pathways to human transformation through life-changing fiction, so valued by wisdom-seekers. It could be that YOU are that wisdom-seeker!

November 4, 2012: Welcome to our newest website page, Panther Meadows Gallery. This collection of photographs was taken on October 19, 2012 on Mount Shasta. It's often said that people tend to take journeys far and wide, overlooking what's practically in their own back yard. This renowned free-standing mountain is hard to overlook, and it's almost in our back yard, so join us on this photo tour!

Our MP3 author read audio book project has progressed, with one obstacle to overcome before we make the downloads available to you. We hope to announce completion by November's end.

October 4, 2012: This seasonal transition marks our gradual progress in this site upgrade, and with the MP3 project. We foresee that downloadable audio books will at last appear on our order page in time for the holidays. Meanwhile, have a look at our new order page format ~ just click on the hand above, or the upper left Order button. As the leaves change, so do we.

August 12, 2012: We are extraordinarily pleased to announce that our website upgrade is underway. We hope you enjoy our new look, and will return often as we refine and add to our content. This turning point also marks upcoming work to convert The Third Verse Trilogy audio books to MP3 format and make them available at our order page. All comments are welcome!
May 13, 2012: It's here! Our promised audio book upgrade is now posted at our order page. Indeed, the audio is the same; only the CDs now have printed labels, and they are cased in sturdy, clear 6-packs and matching single cases. We invite you to click on the hand above, or on the order button to the left, for a look.
April 6, 2012: Our audio-book-on-CD upgrade to industry standards is about to be launched at this site. This upgrade is almost coinciding with our web host's launch of a fantastically new and improved website version. So watch for many changes to our offerings and appearance in the month of April.
January 28, 2012: An upgrade to meet industry standards is in process with the author-read audio book Third Verse Trilogy sets. We are also moving forward with MP3 format for download. You will soon see the new look on our Order page, along with additions. Throughout all our work, it is important to look directly at mind. Encouraging words come to us from the ancients: "The body is the bodhi tree; The mind is like a bright mirror standing. Take care to wipe it all the time. And allow no dust to cling." ~Shen-Hsiu (as found in the March, 2012 issue of Shambhala Sun. a journal popular with www.bloomingrosepress.com)
January 11, 2012: Teachings and transmissions from Lama Lena were, as are all expressions of mind essence, a wordless experience. Any who wish to advance on the path of Dzogchen practice would benefit so much from attending one of her events. During the remainder of January, 2012 she will give teachings at Whidbey Island and Sequim, WA, Santa Cruz, CA, and Santa Fe, NM. Paste this URL into your browser for details: http://www.customjuju.com/wangdorrimpoche/calendar/plans.cgi
January 1, 2012: We take a few minutes on this beautiful New Years Day here in Mount Shasta to report that since the inception of this website devoted to topics of spirituality, psychology, and fiction for wisdom seekers, there have been 248,442 visits. Thank you for connecting with us! In turn, we are dedicated to bringing more methods and knowledge to appear here during this new year. Wishing you all goodness.
December 16, 2011: Please visit our Events page for details about a Dzogchen Teachings event given by Lama Lena Yeshe Kaytup here in Mount Shasta on January 7 & 8, 2012.
November 30, 2011: We are proud to present the culmination of The Third Verse Trilogy audio book project with Vol. III, The Twelfth Age. (This represents 15 solid months of Lily recording her books, editing these recordings and creating CDs for listeners who crave heart-lifting fiction.)
August 6, 2011: It is with humility and gratitude that all within the realm of Mount Shasta glory in the most perfect weather one can imagine at the peak of summer. We radiate luminous bliss to help ease suffering among those beset with weather extremes. Here at Blooming Rose Press we are up very early in the morning cool and quiet for recording sessions while others still sleep. The Twelfth Age is now half-way taped. After editing, the full length audio book of this third volume will be available well in time for the holidays. See our order page for completed audio books, read for you by the author, priced low to make them affordable for all novel listeners and wisdom seekers because all production is done right here at Blooming Rose Press.
June 3, 2011: The El-eventh Hour is now available on our order page as described below.
May 23, 2011: It's release time again! Watch for these new releases to be posted at our order page in the next few days: A 70-minute sampler CD with excerpts from the full-length audio book, read by the author, The El-eventh Hour; and the full-length audio book comprised of 13 CDs. Our prices continue to be rock-bottom with all facets of production taking place in-house. The sampler is $3.95 and the audio book is $12.95, making these affordable for all.
April 3, 2011: The next scheduled event for Blooming Rose Press will be Saturday, June 11, 2011 at the Railroad Days celebration in Dunsmuir, CA. Lily G. Stephen will be there with the launch of the completed set of Audio Books of The Third Verse Trilogy! It is the plan to also have MP3s available. Excerpts will be played at the Blooming Rose Press table. Come celebrate with us!
February 16, 2011: We are halfway through recording of trilogy Vol. II, The El-eventh Hour. Concurrently we are preparing to produce MP3s of all recordings to offer for download at this website. Meanwhile, our order page offers a sampler and the complete audio book of Vol. I, The Tenth Muse on CD!
January 3, 2011: Snow bunnies frolic on our mountain that has received an abundance ~ in the words of one enthusiast, "It was the best snow I have ever skied in. Deep, fluffy stuff. It was a trip to remember." Meanwhile, production of The El-eventh Hour audio book is underway. Be sure to investigate our economical offers at our Order Page.
December 9, 2010: It's a celebration! The Tenth Muse audio book project is complete. Check out our Order Page for this opportunity to experience these evolutionary books in print AND in voice.
November 28, 2010: Follow-up to previous joyful post ~ The Tenth Muse CD sampler, 70 minutes of excerpts from the complete audio book, is now posted on our Order Page. The sampler CD is economically priced and makes a great stocking stuffer. Just click on To Order tab at left or on hand icon above.
Updated November 10, 2010: (August 18, 2010) Zounds! At last! We attempt to maintain equanimity, yet still present this announcement with smiles of happiness: Lily G. Stephen has begun recording author-read audio books after many requests from fans. Blooming Rose Press hopes to make Volume I, The Tenth Muse, available ~ on CD to begin with ~ by early 2011. If this comes about earlier, in time for holiday gift purchases, an updated announcement will appear here. Thank you, fans of the trilogy, for your patience! Latest update: Lots of help is coming our way, seen and unseen. Now into November, a sampler CD of The Tenth Muse audio book is available. Meanwhile, if these energies continue to benefit us all, the complete audio book should be in production by end November. Please come back, check in, and enjoy!

April 17, 2010 IMPORTANT ANNOUNCEMENT: We have received info from Lama Sherab Dorje, Tulku Sherdor, about the tragic earthquake in Jyekundo, Kham ("Yushu"), particularly damage and death toll at Thrangu Monastery which Lama Dorje reports is very grave. Please click on the following link for more details. You will see a second link at that site that takes you to specifics you will want to know.You may also visit Blazing Wisdom Institute, also linked below. ~Namaste~
Thrangu Monastery Tibet relief./rebuild
Blazing Wisdom Institute March 16, 2010: Our newest feature, to resonate with our entry into Spring 2010, is a series of quotations from The Third Verse Trilogy. We begin with just one, and additions will show up through the coming weeks and months. To view, click on "Book Previews."
February 6, 2010: Be sure to check our "Wisdom Forum" page on a regular basis. New additions appear often. See the latest offering that clarifies understanding the nature of reality in spiritual practice.
We are heralding the inception of Decade # 2 in the 21st Century, a year that rings with a unique sound -- twenty ten -- with this announcement:
Since the birth of this web site at the end of 2002 (when we were lucky to get 250 visits in one month), there have been 165,550 visits through December 31, 2009. This is a blessing to you our visitor and to us as hosts of the multi-level wisdom sources represented at Blooming Rose Press.

October 4, 2009: Those interested in the Hearst Estate and Wyntoon can find the article "Wyntoon estate has a colorful history" by Dottie Smith through a link that appears on our Ah-Di-Na page. The page is accessible through our Gallery. For convenience, here is a direct link: www.bloomingrosepress.com/ahdinainfo

September 22, 2009: We invite you to listen to Lily Stephen's latest reading from The Third Verse Trilogy: Lily reading from The Twelfth Age!


September 1, 2009 update:
Changes have been made to "Our Friends." Click on button at left for new and inspiring resources!
August 21, 2009 update:
Our Wisdom Forum page features a commentary about what really matters as we each explore spiritual paths. Contributions by Lily G. Stephen, Bob Stephen, and blog excerpt from Colin Bondi, Evolver.net blogger.

BULLETIN:
Here is a link for the second online radio reading-aloud by Lily G. Stephen from The El-eventh Hour: AuthorsRead July 27 program

August 11, 2009 update: Check out two new Mount Shasta photographs offered for posting at Blooming Rose Press by Robert Bedford. Click on Gallery II.
June 25, 2009 update: Our newest website page is Getting a Story Out of Nowhere, Part II: Careful What You Wish for. Once a story grabs you, what might the future hold for your novel? Visit this page for questions and answers, then return for periodic updates.
Ordering our books is easier than ever with our new, streamlined order page - click on button at left or on the symbol of The Els, the hand above. Now The Third Verse Trilogy, as a set and for individual volumes, is available at this site with a 20% DISCOUNT.
The Third Verse Trilogy, serves two primary needs: first, it appeals to a wide range of fiction readers and intrigues with pathways to wisdom and broader perspectives on existence; equally, the trilogy offers something rare to spiritual practitioners -- entertainment that conforms to their precepts, eons apart from common fiction themes of power play, lust, warfare, conflict, mayhem. The trilogy dazzles with adventure, multi-dimensional settings, ancient precursors to present-time evolution, and a look into one possible future for humankind.
________________________________________
Spiritual leader of Shambhala, an international network of Buddhist meditation and retreat centers, Sakyong Mipham Rinpoche offers suggestions to get past fear many are feeling these days. Visit our Maintaining Equanimity page for a sample of his advice.
If you are a Buddhist practitioner, or are interested in approaches taken by various schools of Buddhist practice, visit our Wisdom Forum page for a new invitation from Blooming Rose Press. Local and regional practitioners, be sure to check the latest posting on our Events page.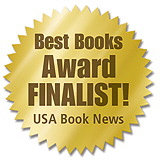 The Twelfth Age, Volume III in The Third Verse Trilogy, has been honored with a finalist award in the "Fiction & Literature: Visionary Fiction" category by the national book award program, The Best Books of 2008.
In competition with big publishing houses such as Simon and Schuster, McGraw Hill, and Harper Collins, The Twelfth Age, Volume III in The Third Verse Trilogy, has been honored with a finalist award in the "Fiction & Literature: Visionary Fiction" category by the national book award program, The Best Books of 2008. For more information about the award program and a complete list of winners and finalists: http://www.usabooknews.com/bestbooksawards2008.html
____________________________________________
Latest review for The Twelfth Age offered by Paul Lappen, Dead Trees Review! Check it out on our Reviews page.
____________________________________________
How often do we hear the word "karma" used like a catch-word? Scholars of spirituality have clarified the principle of karma for us. One such scholar, Andrew Olendzki, has given Blooming Rose Press his permission to offer his article, "Karma in Action," to visitors. Click on the "Karma" button at left for what he shares, insights that reveal how we can choose our actions and change our lives.
And our newest article by Andrew, "Unreal Imagination Exists," sets out an amalgam of considerations important to us, and to you. Andrew Olendzki not only fascinates us word people -- he also opens our perceptions more fully and imaginatively to the true nature of reality. Click on the "Paradox" button.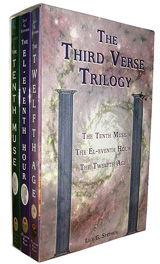 Announcing the release of The Third Verse Trilogy as a boxed set! Fresh for 2009, the boxed trilogy as well as each individual volume are available at 20% off the retail price when ordered through this website. Just click on the "To order" button at upper left.

At this exciting time for Blooming Rose Press, with the trilogy released as a boxed set, we are happy to report a new project about to launch. Our next release,

The Third Verse Trilogy

on CD as audio books -- check back for posted updates soon to appear in this news section.

All images and written/spoken material are protected under copyright by Blooming Rose Press. No material may be reproduced without written permission.
Click on "Contact us" for permission.