Click on hand to order novels.

Helpers along this novel path
This resource page makes available friends, colleagues, associations and affiliates with Blooming Rose Press. Each link represents those with whom we work and with whom we have formed relationships.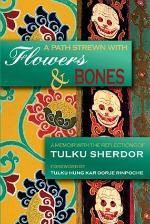 We present Tulku Sherdor's A Path Strewn with Flowers and Bones: A Memoir with the Reflections of Tulku Sherdor. Published by Blazing Wisdom, it tells the compelling story of Tulku Sherab Dorje's life journey and thirty years in the dharma, including twelve years serving at the feet of Lama Sang, His Holiness Orgyen Kusum Lingpa. Forward by Tulku Hung Kar Dorje Rinpoche.
Tulku Sherdor was touched by the spirit of our trilogy that finds "the heart of wisdom within," and contributed his endorsement for the back cover of Volume III, The Twelfth Age.
Click on Tulku Sherdor's book cover for more information.

Ashoka - For those who are drawn to Buddhist wisdom as a way to live in the heart of each moment, but are bewildered about making choices from the various Buddhist traditions, a gateway web site has come to our attention. Called by Stuart Carduner - the creator of Ashoka - "an online eDharma university," students can sample teachings and pursue online courses at their own pace, at home. Find out at www.ashokaedu.net.
The Green Press Initiative - The Green Press Initiative is a non-profit program dedicated to saving trees and natural resources through increasing the use of recycled paper in the book publishing sector. The Initiative is accomplishing this goal through the development of formal partnerships with authors and publishers who are committing to use recycled paper. Blooming Rose Press is a member of the Green Press Initiative. Click on their logo for more information.
Village Books - It is so rare to find an independent bookstore in a rural small town that endures through the decades, is a warm gathering place that greets one's entry with the scents of fresh coffee and pages fresh off the press, and maintains the allure every bookstore should have yet many have lost. Kathy Lancaster, owner for 15 years, turned over the helm on July 1, 2008 to Kim Padilla who has worked there for eight years, and her husband Tony Padilla. They are maintaining the same tradition, offering an online service as well. They make available a wide range of books, and specialize in spiritual and metaphysical topics, as well as a variety of books about Mount Shasta. Village Books carries The Third Verse Trilogy too! Click here to visit Village Books.

Silverlining Publishing - When the question arose about how to find a graphic artist who would work cooperatively to take the elements we had decided upon for our book cover and make the other necessary decisions to create a work of art, it turned out that we had to look no farther than next-door to our office! Leanne Zinkand also formatted the book for us, interfaced with the printing company, and always went the extra mile. Since that time she moved to the beautiful hills above Talent, Oregon. Now, May of 2013, Leanne has found her passion unfolding in her new enterprise, a small publishing company. Click here to visit Silverlining Publishing.

Cope Editing - Every writer can benefit from the impartial eye of a skilled editor. Finding one an author feels comfortable with and trusts can be difficult and time-consuming. We were delighted that finally another author provided a reference to Judith Cope, who has not only helped us develop and polish The Third Verse Trilogy, but who has also raised the trilogy's unique style into its own elegant expression. Click here to visit Cope Editing.

Vedantic Shores Press - Since the day Anna Hourihan contacted us through our site, we have become friends on the spiritual path and colleagues in the publishing business. Anna is single-handedly publishing the works of her late husband, making his voice known world wide and web wide through Vedantic Shores Press. Explore the landscape of the Vedanta philosophy through nonfiction books, creative biographies, and novels by teacher and mystic, Paul Hourihan. Click here to visit Vedantic Shores Press.

Healing Touch Quick Steps - Our colleague with an amazing history and 20 years of spiritual practice in "The Field" offers powerful things you can do instantly to bring your body into harmony. Click here to visit Compassionate Healing Instruction LLC.

AstrologyofLight.com - This beautiful astrology and tarot website offers insights and readings by Mount Shasta resident Elizabeth Jones, third in a lineage of accomplished astrologers and metaphysicians. We receive Elizabeth's regular updates and find them beneficial in their focus on awareness of cosmic energies. Click here to visit AstrologyofLight.com.

Loving Care Ayurveda - We recommend Natalie Gougeon's site, a colleague in the area of health awareness through Loving Care Ayurveda. Explore options for treatment and education available through this age-old art and science of life, and view Natalie's Ayurvedic Principles Chart. Click here to visit Loving Care Ayurveda.

Mount Shasta Magazine - A printed publication also available online, this journal features in-depth articles of a spiritual and metaphysical nature along with additional focus in alternative health and animal health. Don't miss interviews with visionary leaders such as James Twyman, Andrew Harvey, and Ramtha as well as articles featuring outstanding authors and thinkers...Gregg Braden, and a host of others. Click here to visit Mount Shasta Magazine.
Products for wisdom seekers
Both natural and prismatic crystals enhance our spiritual paths in obvious and subtle ways. In our office I keep a natural crystal formation near my computer monitor and a collection of prismatic crystals hangs in the window behind to shower rays of the cosmic spectrum over the workplace. There are so many other ways in which crystals are used, from wearing them to becoming aligned with crystals inside the earth.
Jim's Crystals - Bring celestial rainbows into your home or office, or give as gifts. Long-time friend Jim collects and sells the finest Swarovski crystal prisms at near wholesale prices! These are the best rainbow making crystals available! He has unusual pieces that are difficult to find as well as extra large versions of many popular shapes at 40% below retail. Jim sells fine Austrian crystal from Swarovski and hand cut prisms from Scholer & Co. GmbH. Feng Shui enthusiasts will find every size faceted ball they need...even in color. If you don't see it on the site, just send Jim an email and he'll find it for you. Click here to visit Jim's Crystals
Our host, SiteBuildIt!
We're not tech-savvy people. Even though we have had a SiteBuildIt! website for over ten years, our excitement has crested to such a point that we want to be sure you, our visitor, have access to this dynamic system of site builder and designer tools. Over the years these people have never remained static. They continually grow, develop, and research the latest in website technology. If this fits into your needs, you can explore how SBI! works, and also access a video that shows BlockBuilder 2 with new and powerful features. Yes, in just a little over ten years while we have written and published three books, we've grown our own website simultaneously for the same annual fee (monthly version is also offered) as when we began!
All images and written/spoken material are protected under copyright by Blooming Rose Press. No material may be reproduced without written permission.
Click on "Contact us" for permission.